Presented by Novant Health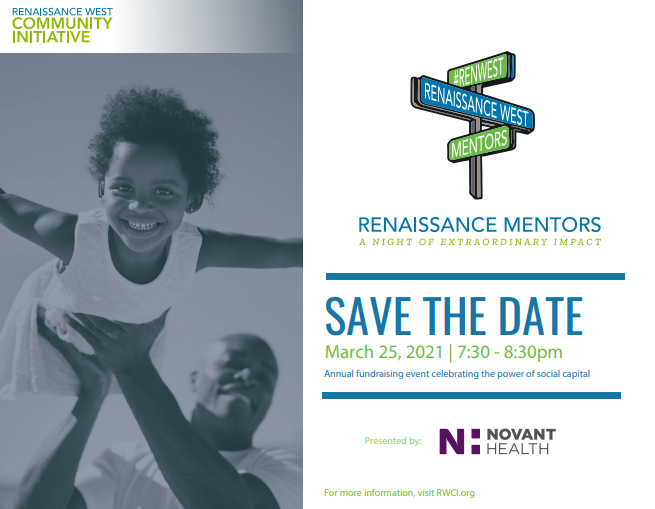 Save-the-Date for Thursday, March 25th, 2021 from 7:30p.m. to 8:30p.m. for Renaissance West Community Initiative's (RWCI) first annual fundraising event, "Renaissance Mentors: A Night of Extraordinary Impact!" Watch the virtual event from your home, device, or office. Stay tuned for special announcements of our Renaissance Mentors and your chance to bid on a 1-hour experience with a Renaissance Mentor.
CLICK HERE TO REGISTER FOR FREE NOW! (They will ask you for a credit card number to register, but your card will not be charged unless you choose to purchase an item.) Click Here to Watch on 3/25! Log-on beginning at 7:10 and the program will begin at 7:25pm!
The Why:
Social capital changes lives. For the families living in West Charlotte's Renaissance West neighborhood, the simplest connection or experience could change their life. You can be the reason that a resident finds hope, motivation, and the connection they need to obtain family-sustaining employment, launch their career, and change the trajectory for their children and the next generation.
About The Event:
Join Renaissance West Community Initiative (RWCI) board members, volunteers, and staff to celebrate west Charlotte and the Renaissance and Little Rock residents and families. The inaugural Renaissance Mentors: A Night of Extraordinary Impact will be a night to remember!
The evening will be filled with opportunities to bid on quality time, mentoring, coaching, lessons, and experiences with prominent civic and business leaders, artists, chefs, athletes, musicians, bloggers, influencers, and more! When you bid, and hopefully win, both you and a resident at RWCI will receive the experience. Together, we can demonstrate that social capital, changes lives!
---
Hosts, Performances, and Speakers
---
Mentorship Experiences that you can bid on:
Andrea Smith, Bank of America
Ariene Dennis Bethea, Dressing Rooms Interiors Studio
Brittany Bogues, The Bogues Group
Brooklyn Decker, Actress and Model
Charlotte Football Club
Cloister Honey
Dae Lee
Holt School of Fine Art
James Mitchell, RJ Leeper Construction
Keith Haywood, FDY, Inc.
Malcomb Coley, Ernst & Young, LLP.
Subrina and Greg Collier, Leah and Louise Restaurant and The Yolk
---
Renaissance Mentor Event FAQ
How can I be involved?
You can participate in several ways! We are still looking for sponsors and event Hosts / Host Couples. The website will be updated to include Meal Box opportunities for purchase and free registration to join us on March 25! You can also bid on mentorship experiences beginning March 18th at 12pm. You must register for the event to bid, then, click here to watch on 3/25 at 7:25pm!
Can I invite friends?
Yes! Please share with your friends, family, neighbors, and colleagues! The event is free to attend.
How can I bid on a mentorship experience?
Register for free to join the event, then, check out the mentorship experience details. Bidding will start one week before the event on March 18 at 12pm!
You will be asked to enter a credit card number. Your credit card will not be charged unless you bid on a mentorship experience or choose to purchase a meal box.
Tell me more about the Meal Boxes!
Thanks to Greg and Subrina Collier and Leah and Louise Restaurant, you will have the opportunity to purchase Meal Boxes! Each Meal Box serves 2 people. The Meal Box includes a choice between two entrees, then, each includes 2 sides, a soup, and a dessert! View the Meal Box Menu & Instruction sheet below.
Meals will be available for pick-up only from 3pm to 6pm on Thursday, March 25!
Plan ahead and organize with friends and family. One person can pick-up Meal Boxes for several households in your neighborhood!
Questions?
Contact Amanda Prothero at AProthero@RWCI.org
---
Thank you to our sponsors!
Novant Health, Presenting Sponsor
South State Bank
Bank of America
Ally Bank
JetStream Ground Services
Ernst & Young
---
Renaissance Mentors Event Download
Inspire Extraordinary Impact!