Presented by Novant Health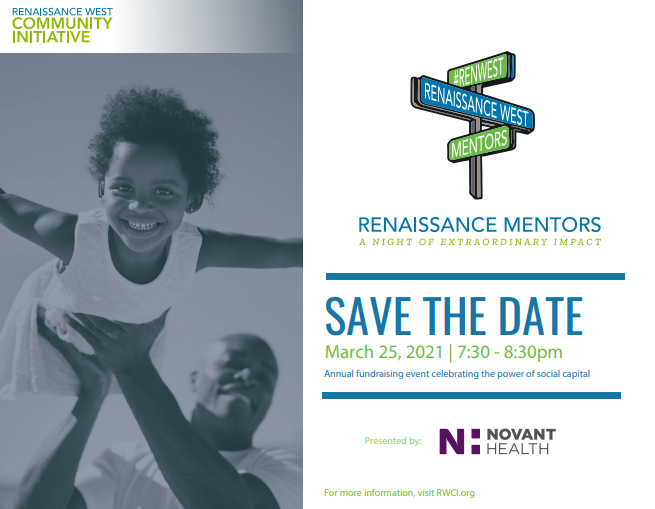 Save-the-Date for Thursday, March 25th, 2021 from 7:30p.m. to 8:30p.m. for Renaissance West Community Initiative's (RWCI) first annual fundraising event, "Renaissance Mentors: A Night of Extraordinary Impact!" Watch the virtual event from your home, device or office. Stay tuned for special announcements of our Renaissance Mentors and your chance to bid on a 1-hour experience with a Renaissance Mentor.
The Why:
Social capital changes lives. For the families living in West Charlotte's Renaissance West neighborhood, the simplest connection or experience could change their life. You can be the reason that a resident finds hope, motivation and the connection they need to obtain family-sustaining employment, launch their career, and change the trajectory for their children and the next generation.
About The Event:
Join Renaissance West Community Initiative (RWCI) board members, volunteers and staff to celebrate west Charlotte and the Renaissance and Little Rock residents and families. The inaugural Renaissance Mentors: A Night of Extraordinary Impact will be a night to remember!
The evening will be filled with opportunities to bid on quality time, mentoring, coaching, lessons and experiences with prominent civic and business leaders, artists, chefs, athletes, musicians, bloggers, influencers and more! When you bid, and hopefully win, both you and a resident at RWCI will receive the experience. Together, we can demonstrate that social capital, changes lives!
Renaissance Mentor Event FAQ
How can I be involved?
You can participate in several ways! We are still looking for sponsors, Event Hosts / Host Couples, and we will begin selling tickets in Jan. 2021. The website will be updated to include Event Box opportunities, including meal options.
Can I invite friends?
Yes! Please share with your friends, family, neighbors and colleagues!
Questions?
Contact Amanda Schneider at ASchneider@RWCI.org
Thank you to our sponsors!
Novant Health, Presenting Sponsor
Ally Bank
Bank of America
JetStream Ground Services
South State Bank