Homes are the essence of a healthy, vibrant community. Many people living in concentrated poverty lack affordable, quality housing options. Our model of mixed-income housing offers the environments and amenities to help residents thrive by elevating the standard of living for the lowest-income residents, while providing affordable housing opportunities for residents in higher income brackets.
Mixed-income neighborhoods provide the opportunity for people from different backgrounds to become neighbors and friends sharing pride in their community and an enhanced quality of life.
An environment that provides solid construction and practical amenities surrounded by safe walkways and streets transforms the way residents view themselves and their neighborhood. When a sense of fear and desperation is replaced with hope, pride and possibility, you build more than a new home; you build a new way of life.
Phase I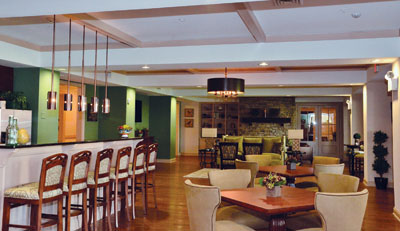 Charlotte Housing Authority selected Laurel Street Residential to redevelop the former Boulevard Homes into a beautiful new mixed-income community in several phases. Laurel Street Residential unveiled the The Retreat at Renaissance in November 2013, which provides 110 units for fixed-income seniors and the disabled. WRH Realty is managing the apartments and you can register for more information at www.retreat-clt.com.
Building features include covered resident/visitor entry with patio seating, covered resident drop off entry, courtyard area with gazebo and patio, multipurpose room, exercise room, library/computer center and garden plots. The luxurious apartments include fully equipped kitchens, hardwood cabinets, eat-in breakfast bar, spacious closets and ceiling fans. There is a laundry center on each floor.
Phase II
In March 2013, construction began on the development's second phase: 74 mixed-income family units that are called The Residences at Renaissance, along with a Community Center with playground and pool. Phase II was completed in Spring/Summer 2014 and is fully occupied.
Phase III
The third and final phase of residential construction was completed and fully leased in Summer 2016. It includes 150 additional mixed-income apartments and townhomes. At present, the wait-list for The Residences at Renaissance is approximately 3,000 families and individuals long.