A Sense of Place. A Point of Pride.
Monique Luck's "Welcoming Dreams," a mosaic she created in 2016 with artistic input from residents, signals a new day for the Renaissance West community. The mixed-income community is what became of the Boulevard Homes, the formerly crime-ridden public housing complex torn down in 2011. The apartments were the site of Charlotte's only double police homicide. Two streets in the community are named for the slain CMPD officers –Andy Nobles and John Burnette. Their first names are also embedded in the sculpture.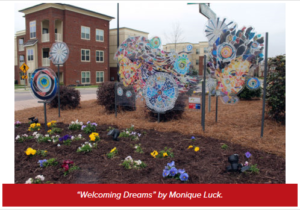 "I hope the sculpture reminds residents that everyone has a part in this community," said Amanda Golmont, development officer at Renaissance West Community Initiative (RCWI). She said it's also a reminder to residents "of how far the community has come, but more importantly, how far they have come." Indeed, it's a daily reminder. The sculpture – the first effort in the Harvey B. Gantt Center for African-American Art's Community Arts Project – was given pride of place within the community. It's at the roundabout residents and visitors see each time they enter or leave.