An Educational Pipeline Comes to Life in Charlotte
In their navy blue and gold uniforms, 400 students entered the new K-5 Renaissance West STEAM Academy on the west side of Charlotte, North Carolina on a fall morning in 2017. This day was the first of many designed to get the students on a new trajectory to "Soar Higher" – the school's official motto.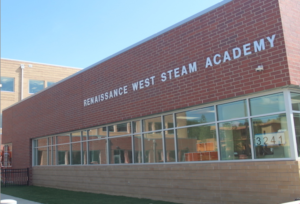 For the administrators, teachers, parents and community leaders who made this school a reality, that was a good day. But, those experts and visionaries had an even bigger plan. They knew that opportunity for academic achievement begins the day a child is born. And so almost concurrently, the Howard Levine Child Development Center was built to provide quality, affordable education and childcare in the neighborhood. It opened its doors in February 2018 with space for 152 children ages 0-5.
The construction of the Howard Levine Child Development Center was funded by the Charlotte Housing Authority and capital campaign donations from many, including former Family Dollar Stores CEO Howard R. Levine.  Renaissance West Community Initiative, the Purpose Built Communities Network Member and community quarterback in this part of west Charlotte, spearheaded the efforts to bring these much-needed educational resources to the community.