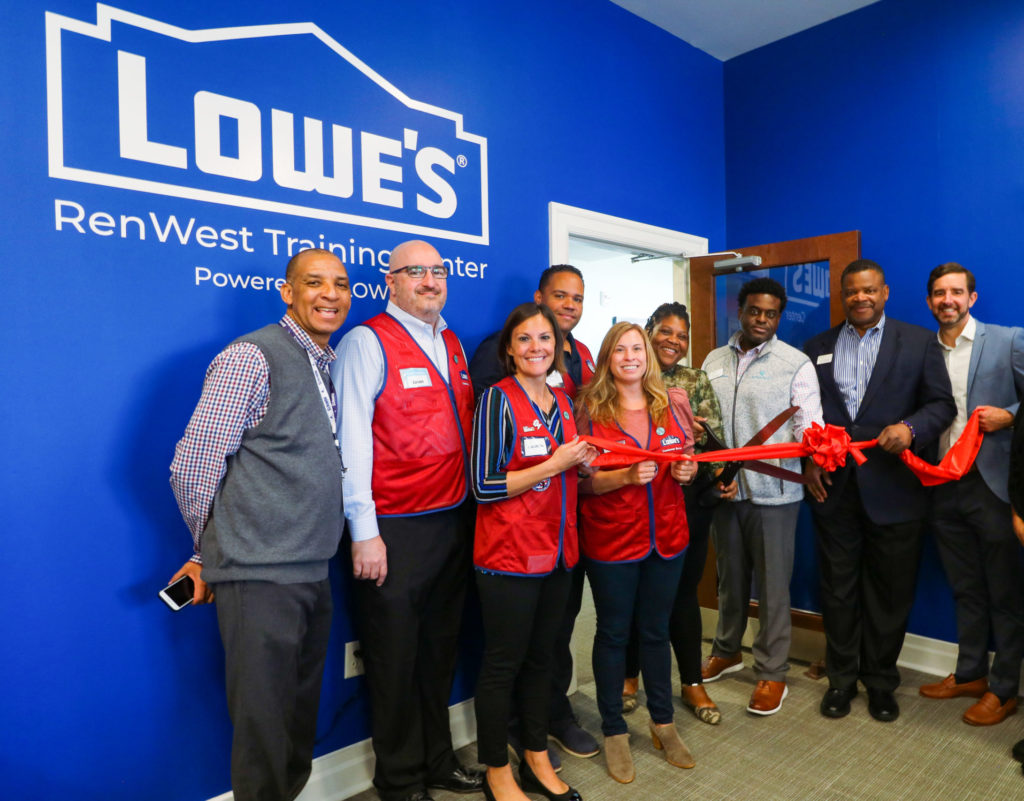 Charlotte, NC, November 4, 2022 – A ribbon-cutting ceremony and reception marked the official opening of the RenWest Training Center Powered by Lowe's, a dedicated area in the RenWest community designed around workforce development programming and skilled trades training made possible by Lowe's $3 million investment in the Renaissance West Community Initiative. Residents from the west Charlotte neighborhood helped launch the center by participating in an Informational Workforce Development and Training Opportunities Program prior to the ribbon-cutting.
During the Informational Workforce Development and Training Opportunities Program, representatives from CPCC, NC Works, and She Built This City connected residents to collegiate programs and corporate services that support skilled trades training and education within the city. Representatives from Lowe's, RenWest, and a RenWest resident concluded the education session by cutting the ribbon marking the official opening of the RenWest Training Center Powered by Lowe's. A reception followed.
"A wealth of talent and skill exists in our community, and we are making social capital connections for people who are ready to make their mark on the world," said RenWest CEO William "Mack" McDonald.
Betsy Conway, Community Relations Director at Lowe's, shared that Lowe's involvement with RenWest dates back to a tour Lowe's associates took of a RenWest facility, experiencing the community first-hand. "We were curious about how we could help build upon existing assets in this neighborhood to unlock the talent and skills of its residents," she said. "We hope that the Training Center will help the community prosper and grow, and we are proud to partner with RenWest to help develop skilled trades professionals in our hometown of Charlotte."
A RenWest resident closed the event with her words of thanks. "We in this community are so grateful for the support we receive and the personal attention we have available to help us meet our financial, work and life goals. For me, it has been life-changing and I thank you!"
###
The Renaissance West Community Initiative is a nonprofit organization formed in 2012 to lead the revitalization of the former Boulevard Homes public housing site into a vibrant village called The Renaissance. The initiative is based on a holistic community redevelopment approach focused on building opportunities through multiple pillars including mixed-income housing, an educational continuum from birth to career, and health and wellness services. Its mission is to break the cycle of intergenerational poverty through its collaboration and outcome-centered programs. Lowe's is one of RenWest's primary funding partners having committed $3 million in 2021 to support the RenWest mission. Learn more at www.rwci.org.