Editor's Note (September 2017): A Backdrop for Big Things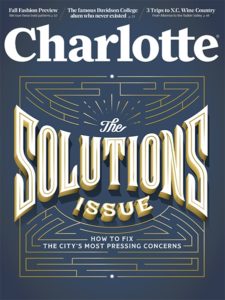 Published: 
BY MICHAEL GRAFF
ONE EVENING not long after I moved to Charlotte, I slipped into a comfortable chair at Park Road Books to listen to an author who once created an entire fictional community out of fish stories. Daniel Wallace is best known for writing the 1998 hit novel Big Fish, which became a blockbuster movie directed by Tim Burton. The crowd on this night was small and loyal, maybe 20 of us in a semi-circle around Wallace while he talked about his most recent work.
At the end of the evening, someone asked him if he'd ever consider setting a book in Charlotte. Wallace, a clever humorist from Chapel Hill who could turn any place into a land of magic, smiled out of one side of his mouth and said, "I think it'd be hard. To me, Charlotte doesn't really have an identity or personality. Maybe I'm wrong."
Like it or not, that's the perception of our city in the region. I'd been all over North Carolina before I moved here, and I'd listened to people in Durham and Hillsborough and Asheville and Wilmington dismiss Charlotte as unoriginal and spiritless. Of special interest to me was the tower from which the Triangle writing community—a distinguished group, for sure—looked down on this town. I hoped we could change that, even if just a bit.
Four years later, another evening: I was at an awkward networking party with people dipping popsicles in champagne while telling me their thoughts on Charlotte, as people tend to do with me after I tell them what I do for a living. One woman who's lived here a couple of years said something that cut me: "Charlotte is so basic." It's as though she wanted to verify the notions of people from elsewhere.
This job has introduced me to powerful individuals and influential organizations all over town. I've met countless people outside of the fishbowl of social media who've shown me that Charlotte is anything but basic. In fact, it's simmering at the moment, with new ideas and leadership groups forming in quiet that will bring incredible change in the next decade. You may not see them yet, but you will.
In this issue, one year after the police shooting of Keith Scott led to protests and violence in uptown, we look at the work we have to do as a city and the work that's already being done. I've read the features several times, and they make me appreciate living here more than ever. That's especially true when I think about the stories we've left out. They include: a joint effort from Myers Park United Methodist Church and St. Mark's United Methodist Church, led by St. Mark's pastor Otto Harris, to bring teenagers to dinner with faith leaders and police officers. Or the program put forth by Michael DeVaul and the YMCA this summer, opening branches of the Y for free on Friday and Saturday nights to help keep kids out of trouble. Or the Renaissance West Community Initiative, which is creating not just mixed-income housing on the site of the old Boulevard Homes public housing project, but also a child development center that will serve children from infancy to five years old.
Charlotte has hundreds of nonprofit organizations, dozens of restaurants opening every month, the Broadway show Hamilton coming here next fall, and just hosted the PGA Championship in August.
The souls who find Charlotte basic might be telling on themselves.
As wonderful as this job has been to me, I'm moving on to a full-time freelance career. This issue, which we hope serves as a guide to city leaders and residents as they develop priorities for our community, will be my last as editor.
I'm excited to make that announcement, and this one, too: In the fall of 2014, I hired an energetic, brilliant, fast-talking, pet-loving, food-eating editor named Kristen Wile to be our senior editor. Working alongside her has been one of the great joys of my career, and I can't wait to see what she does now that she's been named the new editor. She'll be the first woman to hold the position in the modern era of the magazine, dating to a re-launch in 1995.
A fun twist: In one of her first decisions as editor, Kristen's hired me to write the back-page column, filling the spot left open by Ron Stodghill's recent move to Missouri. It's an honor to remain part of this little community we've built here.
In July, a bunch of us from Charlotte went to Texas for the Mayborn Literary Nonfiction Conference, the premier conference for the type of work we do. The event includes a couple of competitions in which writers from around the country submit unpublished works to be judged. I'm proud to say that two of our writers—freelancer Jen McGivney and staff member Adam Rhew—placed in the competitions. Adam, who's earned every bit of his promotion to senior editor next month, took home first place for reported narrative. I choked up watching them accept their awards and applause from a room that included Pulitzer winners.
At the end of the weekend, a friend of mine from Texas walked up to me and said, "Damn, y'all have a lot of talent in Charlotte."
Right, I told him, that's what we've been meaning to say.