RWCI residents remain disproportionately impacted by the public health and racial equity crises. Residents are experiencing high levels of stress and trauma, with their sense of safety diminishing. This is evident in matters of food security, education, and the digital divide, childcare, and employment. Since the pandemic began, the community has faced increases in potential evictions, mental health needs, school closures, and faced difficult childcare decisions. RWCI staff provides residents with place-based support and resources throughout the pandemic.
Employment status was collected four times between February (pre-pandemic) and September for all Care Coordination participants. Care Coordination is the umbrella term that covers the Family Self Sufficiency (FSS) and Life Navigation (LN) programs. As of September 30, 2020, there were 147 Care Coordination participants. The employment status summary only includes participants that were enrolled in the program before February 2020 and do not have a disability that prevents them from employment. The graph comprises 126 participants. It does not differentiate full-time vs. part-time employment positions or reflect reductions or increases in hours.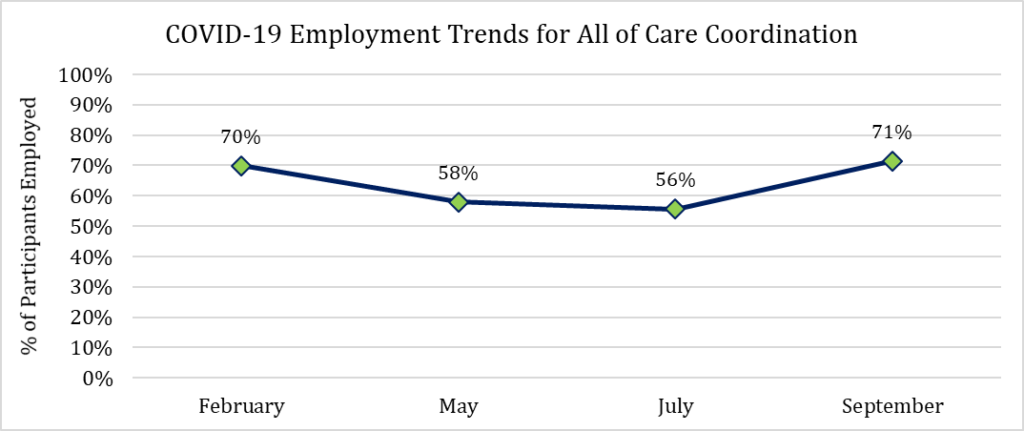 Additional Care Coordination Employment Information
RWCI did see employment transition among participants. Below are descriptions of "movement" between employed/unemployed between February to September 2020.
Out of the 126 total work eligible Care Coordination participants:
45% maintained employment through the pandemic
17% were unemployed prior to, and remained unemployed through September
14% were employed pre-pandemic, lost employment, and regained employment by September
13% were unemployed pre-pandemic and gained employment by September
7% were employed pre-pandemic, lost employment and never regained it
4% were employed pre-pandemic through September, when they lost employment
Over the last several months, RWCI has worked with many community partners to serve the Renaissance and Little Rock neighborhoods in many ways. Here are a few examples:
Engaged 616 residents through community engagement and/or programs
134 children, K-12, participated in summer programming with RWCI
Helped residents address immediate crisis and connect them to resources
Worked with employment partners to assist residents, such as, Eryie Success, CPCC, Charlotte Douglas International Airport and Charlotte Works.
Secured funding and helped residents get support with the help of our partners at Be Whole Counseling, providing mental health and counseling services.
Worked with local food banks to navigate policies and ensure families in need of food had access to it
Addressed the digital divide, RWCI worked with CMS and the CMS Foundation to provide Chromebooks and hotspots. Furthermore, RWCI has partnered with the City of Charlotte to secure free Wi-Fi for all homes in Renaissance and Little Rock neighborhoods.
Novant and Atrium Health mobile screening, testing, masks and pandemic, safety education to residents
Thank you to all of our partners and supporters who, without them, none of this would be possible.