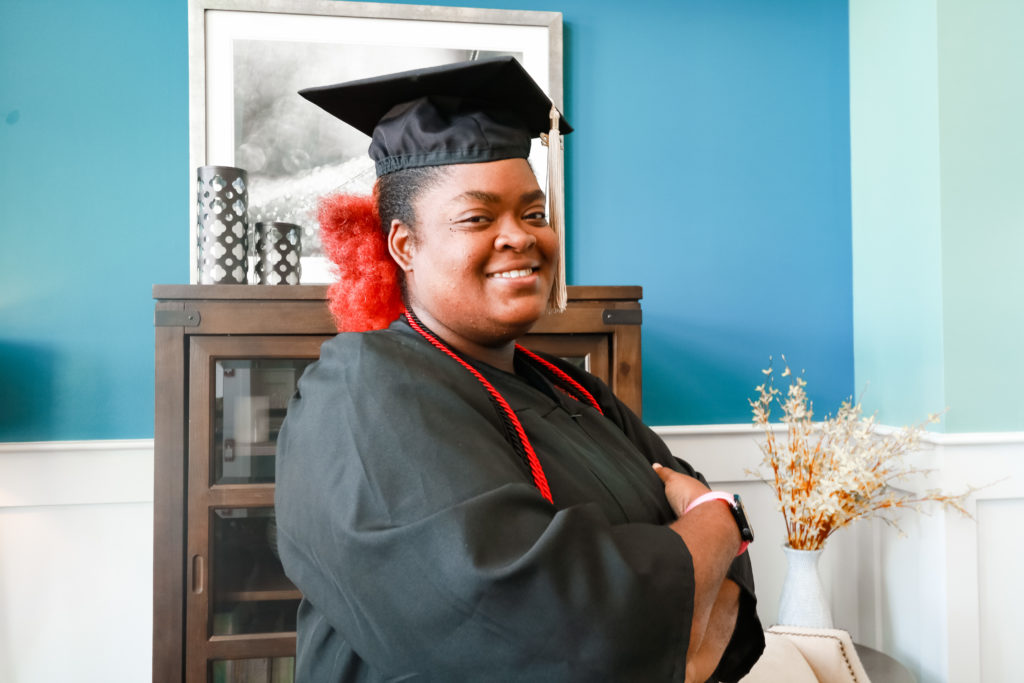 Fifteen years after dropping out of high school, Sierra T. has passed the GED exams, earned her High School Equivalency diploma, and aspires to enroll in college, thanks to the relationship Sierra built with RenWest Community Initiative resource partners and her perseverance and hard work.
Sierra is a single mother of three, and resides in Little Rock Apartments, a neighborhood RenWest serves. As a resident for nearly six years, Sierra formed relationships with her neighbors, community members, and RWCI staff and leveraged those relationships to advance her personal, educational, and career dreams.
Sierra was 18 when she dropped out of high school in 12th grade to focus on her role as mother to her new baby. She was just four credits shy of graduating.
Then in October of 2021, a pivotal moment arrived for Sierra to provide a pathway for her to transform her dream into reality. A RenWest program officer encouraged Sierra to enroll in the RenWest GED program administered by Building Your Future (BYF) Consulting #1.
For two years, Dr. Tamara Bowles, President and Chair of BYF Consulting #1, and the team assisted Sierra and other scholars journeying toward academic achievement, remaining faithful to providing a safe, educative environment for scholars to fulfill program subjects and tests. "Sierra's inquisitive character, transparency, and visual learning knowledge aided her academic performance," said Dr. Bowles. In 6 months, Sierra obtained her GED, exceeding the national average, commonly taking one to three years to acquire.
"I accomplished the goal I set out for myself and because I never gave up,

a lot of doors are now opened to me." – Sierra T.
As a RenWest resident, Sierra is prepared to thrive post-program and pursue future endeavors, a direct outcome of having access to the RenWest Training Center powered by Lowe's and support from the collective leadership modeled among our community partners. All-around investments influence residents' opportunities to fulfill their dreams, and Sierra recognized the place-based resources she needed to accomplish her goal early on.
Her success story exhibits community power and is inspirational to every neighbor and collaborator in her life. "I accomplished the goal I set out for myself and because I never gave up, a lot of doors are now opened to me," said Sierra. Next, Sierra aspires to enroll at Central Piedmont Community College to major in either Medical Billing and Coding or Pharmacy Technology. Our RenWest community quarterback role provides the environment, programs, and people who believe in her determination to fulfill her desires. We look forward to cheering her on in the next venture to achieve success through upward mobility.
Similar Articles